Energy-saving Cool Cold Cathode Neon Tube Lights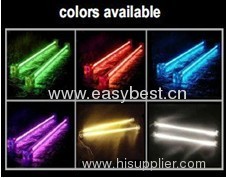 Energy-saving Cool Cold Cathode Neon Tube lights
3.0 USD
Payment Terms:
L/C, D/A, T/T
Place of Origin:
Zhejiang, China (Mainland)
Production Capacity:
10000piece/pieces per...
Input Voltage:
12V DC INPUT
Color:
Green,Green,Red,Blue,Yellow,White,UV
Product Description
Brief Description
Related Products
Related Links
Neon Tube lights
1.Color Available Red,Yellow, Green,Blue White,Tricolor
2.DC input 12v
3.Very Easy To Install
4.CCFL

Cold Cathode Neon Tube lights Types :

300mm X 3.0mm (12 inch)
200mm X 3.0mm (8 inch)
100mm X 3.0mm (4 inch)

Or can be customized

Cold Cathode Neon Tube lights Technical datas:

Lifetime: 30,000 hours

Brightness: 28,000~30,000 cd/m2

Current draw: 5.0mAv

Output voltage of inverter: 680v(8.8watts)

Input voltage of inverter: 12v

Tube diameter: 3.0mm/4.0mm


Application:
1.Wardrobe;Bookcase;Makeup ark,Computer case ambient lighting.
2.Can be customize according t customers' special requirements.
Neon Tube lights
1.Color Available Red,Yellow, Green,Blue White,Tricolor
2.DC input 12v
3.Very Easy To Install
4.CCFL